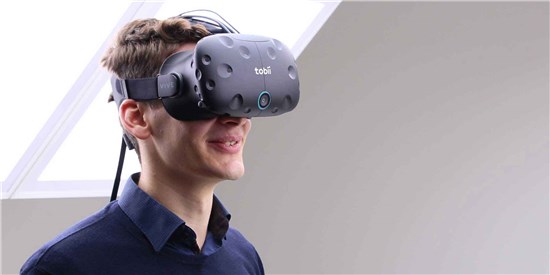 Tobii Pro VR Integration
A retrofitted version of the HTC Vive headset with a seamless and complete eye tracking integration from Tobii Pro. This unique combination transforms the way studies are conducted and opens up new research possibilities.
The eye tracking platform is incorporated directly into the headset, which ensures a continuous user experience of VR. The proprietary Tobii EyeChip™ handles the data processing and puts a minimum load on the host CPU. No external cables are needed, because eye tracking data is transmitted via the standard HTC Vive cables.
Powerful SDK to access eye tracking data
Eye tracking data can be accessed both live and for post analysis using Tobii Pro SDK and example code for Unity VR engine compatibility. The Pro SDK supports millisecond synchronization and allows researchers to build their own customized analysis applications.
Eye tracking analysis in VR environments
Through our partners we are able to develop customized environments that enable the collection and playback of eye tracking data using new or existing Unity3D assets. A special integration with Tobii Pro provides analysis on a range of human behaviors, including automated visualizations and analytics for interaction and gaze data.
Why run eye tracking studies in VR environments?
You have full control over your study and know exactly where the participants' visual attention is at every moment of the experience.
Any type of simulated environment can be designed, and research scenarios can be easily and quickly repeated - all in a timely, cost-efficient manner.
Dangerous, inaccessible, or distressing scenarios, that cannot be studied in reality, can now be recreated in a virtual world.
** Eye tracking in VR adds the possibility of creating more immersive research scenarios by enabling natural interactions based on gaze.
Application Areas
The Pro VR Integration opens up entirely new opportunities for behavioural studies with scenarios that were not possible to recreate before. Here are a few examples:
Psychology – treat anxiety disorders, phobias, and PTSD (posttraumatic stress disorder) in fully controlled and safe environments, while knowing exactly how your visual stimuli trigger certain emotional responses.
Professional Performance – train workers in high-risk industries or safety-critical roles to see how they perform under pressure and make operational decisions - all without putting your team in harm's way.
Market and Shopper Research – get insights into how consumers respond to brand messaging, packaging, and store environments, without having to bring participants into the store or physically produce materials.
Usability – test 3D-models of products in the development stage, without the need to build the actual expensive and time-consuming prototypes, all while capturing visual responses and engagement.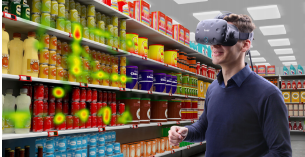 Various Packages Available:
Integration Package: Tobii Pro VR Hardware with Tobii Pro SDK for your own development
Custom Package: Tobii Pro VR Hardware with individual development of your own environment to test in including standard eye-tracking analysis tools
Consulting Package: development of your specific tool to collect and analyse eye-tracking data in any VR environment